Waar is de Maan? Muziekstuk 100 jaar Zuiderpark
Beluister hier het Muziekstuk 'Waar is de Maan' gemaakt voor 100 jaar Zuiderpark

Coproductie Zuiderparktheater & Rewire Compositie door Sophie Jurrjens
Dit muziekstuk is tot stand gekomen door een samenwerking tussen het Zuiderparktheater en Rewire. Een ode aan het mooiste stadspark van Den Haag: Het Zuiderpark. Samen met de kunstenaars van Grofweg Architecten en alle kinderen van het Vakantiepark2023 presenteren wij met trots: Waar is de Maan? door Sophie Jurrjens.
In 2023 bestond het Zuiderpark 100 jaar. Het Zuiderparktheater is toen in samenwerking met Rewire een project gestart met als doel een muzikale ode te maken voor dit Haagse stadspark.
Een herinnering van toen Donata nog een kind was en aan de rand van het park woonde inspireerde zo dat haar verhaal de basis vormden van een 6 weken durend project met en voor kinderen:
"Ik was heftig aan het zoeken, een jaar of drie oud. Toen mama vroeg wat ik zocht, antwoordde ik: "De maan!". Die zag ik 's avonds boven de bomen, dus overdag moest hij ergens rusten op de grond van het Zuiderpark!"* (Donata, Een park vol verhalen)
De Super Moon van Grofweg Architcten heeft zes weken op ons eiland gelegen alwaar verhalenworkshops en muziek/geluiden workshops plaatsgevonden hebben.Alle stemmen van de kinderen van Vakantiepark 2023 zijn vervolgens door componist Sophie Jurrjens tot een heus muziekstuk gemaakt.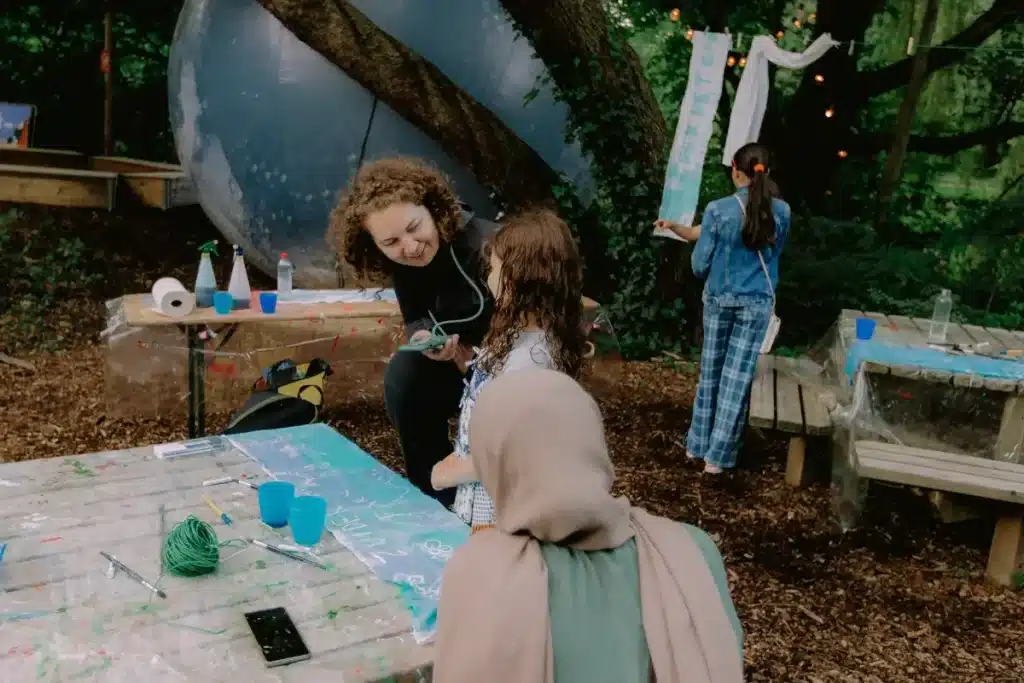 Rewire en Outreach
Rewire is een jaarlijks internationaal muziekfestival dat niet alleen nieuwe vormen van muziek presenteert maar ook diverse manieren om muziek te beleven. Of dit nu gaat via film, performance, concert of dialoog. Rewire gelooft in inclusiviteit en diversiteit. Andere verhalen, achtergronden en werelden verrijken de blik van het festival. Rewire wil mensen bereiken voor wie het minder vanzelfsprekend is om kunst en cultuur te ervaren. Mensen die niet automatisch in aanraking komen met muziekfestivals, zoals Rewire.
Sophie Jurrjens
Sophie Jurrjens (b. 1992) is a composer and interested in merging music with its surroundings. After completing her bachelor at the Utrecht Conservatorium, she graduated from the ArtScience interfaculty at the Royal Conservatoire/Koninklijke Academie van Beeldende Kunsten in The Hague. To let people experience the power of music, Sophie developed the Off-Track app. Off-Track transforms going outside into an experience by adding music to a walking route. She writes the music herself and adapts it to the route you walk. In collaboration with Rewire Festival, Sophie has developed several compositions and soundwalks for different places in The Hague such as the Laaktheater, De Centrale Bibliotheek and Theater en Filmhuis Dakota.
Rough Architects
Grofweg Architecten consists of Damian and Killian van der Velden. They develop projects from an autonomously oriented basis and work on commission with a cross-over system. In projects, they tend to work intuitively and use In situ (material present in the environment) with which they set up a site -specific work. Think of land -art, -marks, installation art, placemaking, interiors and exteriors, experience, stage art and architecture.